Community
In our region, we are on a jorney with friends to build and develop a holistic community as followers of Jesus.
Together we want to pursue Jesus and invite others to join in on this journey.
This is where we share our lives, our time, money, and resources.
We are a multicultural and colorful bunch of people who come together to learn from Jesus and from one another.
One which is, in many parts, more different from our respective cultures than we might have thought.

Spiritual family

Our motivation is the idea of a spiritual family that can be multiplied easily in different places. The four pillars of a spiritual family are:
get to know and love Christ better
get to know and love oneself and one another better
get to know and love others, who do not know who Jesus is, better
get to know and love God's creation better
We meet regularly for collective prayer and have built a multicultural disciple group .
One member of our community is offering among other things "Al Massira" courses in different languages.
House of God

We are convinced that Jesus, through political, social and spiritual motions, is currently waking up his church to discover its calling for our time:
to be a place where the kingdom of God unfolds full of love and power and becomes visible and experienceable to those around us.
The places where we live as followers hold a key role here. We can and should be examples of how followers of The Lord
live God's loving character to invite others to join in.

We have opened our house. Our house shall be a place


where we seek answers about faith, life, and the challenges we face as
individuals, as a family, a church, a city or a society
where discipleship can happen for the people in our city and region
where people can live and work with us to learn more about and
be equipeed for their individual calling
with open space for meetings, training, community, prayer. We offer support, advice, coaching and help in all things in life for His kingdom
where we can think aloud about the future of God's Kingdom in Germany and Europe. There will be regular formal and informal opportunities to experience and learn about holistic discipleship alone or in a group
that is non-denominational. To us, it is not important whether you are catholic, evangelical, messianic, orthodox, or from a free church. You are very welcome to simply take part.
where you can take a look at the way we live. We share our lives with people who have a no or a very different concept of faith in Christ Jesus
(for example with our muslim friends who came as refugees).
Land and agriculture

Considering a drastic wastage of resources, rapid destruction of biodiversity, climatical catastrophes, exploitation of humans and animals for cheap clothing and nourishment, and self-poisoning through bad food it becomes more and more urgent especially for followers of Christ to face these topics.
We are convinced that God's creation is not solely relevant to gardeners, farmers, beekeepers, animal welfarists, environmentalists, and forestry people.

God`s creation has been assigned to mankind, who was made in His image, from the very first page of the Bible. Regarding ourselves as disciples and students of Jesus Christ , this has to be valued even more. God has entrusted us with his creation with a wonderful treasure we should have cultivated and protected. Unfortunately, we have taken our magnificent world for granted, watched and accepted its progressive devastation and, through our behavior, also supported this development actively.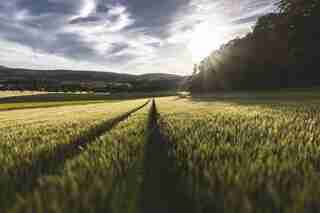 God's soil

"The earth is The LORD's and the fulness thereof; the world, and they that dwell therein "
- Ps 24,1
Our planet is not irrelevant to God . And if this is not the case for God, it should not be for us, either. We think it is time to change our ways and do things differently as long as we've still got time. As a community, we also want to devote ourselves towards land and agriculture, rediscover what generations before us still knew and was lost with fertilizer and pesticides, to cultivate and protect land sustainably and close to nature .
Unfortunately, conditions are becoming increasingly tougher in our region. That's why we have to be creative and take the old monastic rule "ora et labora" seriously . Perhaps we will find out what the land needs when we talk to our Lord, to be balanced and strong enough to endure weather fluctuations. Should God not do miracles for the creation He loves! "The earth is longing for the revelation of the sons of God" as it is written in Rom 8,19. We are in demand to become creative in Jesus name with all we are and have.
Creating solutions together

Together we want to seek answers for our gardens and land and additionally support communities, families, and individuals who want to utilize
their land, garden, or forest close to nature.
Our role model is the "Krameterhof" in Lungau, where 45 ha of hill country are cultivated according to the concept of permaculture by Sepp Holzer.
To us, it is always important to keep in mind the fact that we know nothing and to maintain the demeanor of disciples and students of Christ
- for every piece of land has its chances and challenges.

We want to learn everything we need to know about close-to-nature agriculture and share our knowledge.
We plan to hold workshops, seminars, and work together to learn together, gather ideas, try out new things, etc.
We want to shoulder responsibility for God's creation in the field God entrusts us with .
This does not necessarily refer to animal or plant breeding.
Even if people do not have land to cultivate - God's creation needs us on different levels.
When it comes to water consumption, for example, we love what God loves.
That's the challenge in God's kingdom. Our planet is part of it.